Well, I'm determined to do something with it… will try a Saag Paneer sometime next week, but in the meantime, I'm throwing the stuff into my blender by the handful… it's actually pretty good!
Here I am with my latest concoction: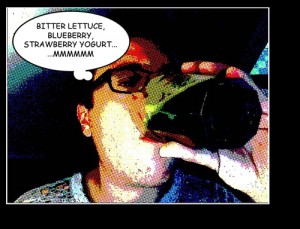 2 Big handfuls of bitter lettuce + one big leaf of swiss chard, and a smattering of bitter spinach
20 blueberries
1 cup water
2 Tbs of strawberry yogurt
Put it all in the blender, blend, and drink.
Okay, so I might not be the best person to listen to given that I've already lost my sense of smell and for all I know this thing tastes disgusting… but as far as my taste buds are concerned, it's pretty good!
Alright, enough goofing off… lunch is over, back to work!
Cheers
David