National overview
Migration was heavy up the middle of the U.S. last night, from Texas to North Dakota. Additionally birds continued to move up through the Florida Peninsula and up the Pacific Coast, while high pressure across most of the eastern U.S. muted migration overnight.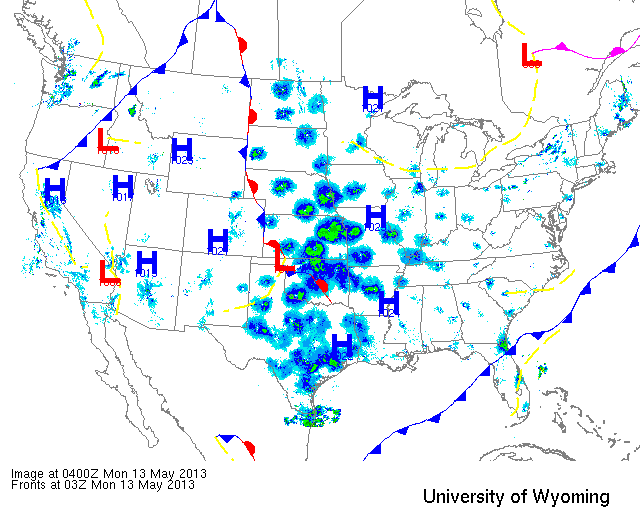 Below are the radar loops from sunset last night through 5:00am (central time) this morning
Ohio/Ontario
Frames are every 1/2 hour. click on the thumbnail to view the full-sized animation.
Very little moved over the forecast area, as northerly flow and cold temps appear to have kept migrants on the ground last night. The Detroit radar showed no visible migration throughout the night, while both the Cleveland and Pittsburgh radars indicated a very small pulse of activity just after sunset, with the mean trajectory being SSW->NNE.
Birding throughout the region should be consistent with the last two days, as birds make only localized movements into more optimal foraging habitat today. With the cold temps and northwesterly winds, finding birds will mean finding the sheltered spots with early morning sun on them. The weather gets more interesting tonight and tomorrow night, as the next front moves into the region. As winds turn more westerly tonight we may see a push of birds into the western Eerie basin by Tuesday morning, although most of these birds will be headed northeast which favors Rondeau over Pelee. On Tuesday night the winds will turn southerly across the basin which will trigger heavy migration into the region and directly over Point Pelee. Without any forecast precipitation to bring birds down on Wednesday morning expect many of these birds to continue north of Pelee, while some of them will surely put down in the park as well. Therefore Wednesday looks to be the best chance at a bulk of new arrivals to the park. I sure wish I was going to be here then!!
As always, woodcreeper.com depends on you to report your sightings and be our 'eyes on the ground', so please come back and give us an idea of how we're doing predicting birding conditions in your neck of the woods.
Good Birding,
David
For migration updates in other regions check-
Michigan's Upper Peninsula -Â The Northwoods BIRDARÂ by Max Henschell
New England -Â Tom Auer's blog
Florida/SE - Badbirdz Reloaded by Angel and Mariel Abreu
PA/Ohio Valley - Nemesis Bird by Drew Weber
NW Ohio - Birding the Crane Creek by Kenn Kaufman
Pac NW - Birds Over Portland by Greg Haworth
Continental US - eBird BirdCast Forecast & Report by Team eBird