National overview
Light trans-Gulf migration along the Texas coast was followed by heavy nocturnal migration up the central U.S. last night as the latest low pressure system swept across the Upper Midwest. Light to moderate migration was present from the Central Great Lakes down through eastern Louisiana last night, but will be higher tonight as migration conditions continue to improve to the east today. Light migration was also evident throughout the Desert Southwest and coastal California through the Pacific Northwest.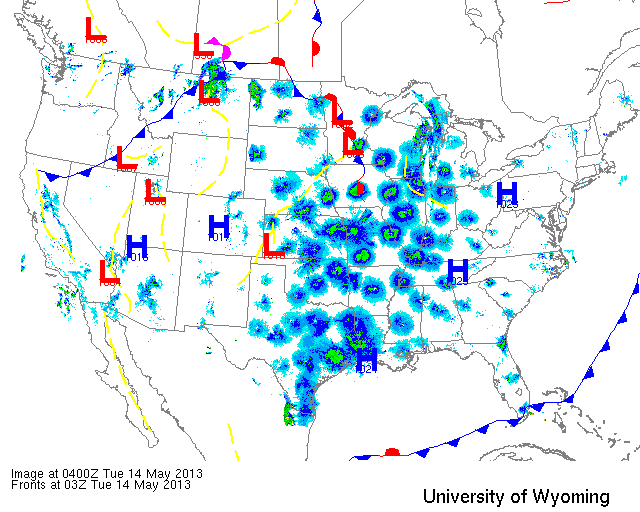 Below are the radar loops from sunset last night through 5:00am (central time) this morning
Upper Midwest
Minnesota
Frames are every 1/2 hour. click on the thumbnail to view the full-sized animation.
Birds were moving over Minnesota last night, as southerly winds at 3000+ feet, and light surface winds out of the southwest triggered heavy migration. The duration of migration was shorter than anticipated and I can't really tell what was going on in the latter part of the period, but the velocity indicates a slight westerly push of birds throughout the night so expect birding conditions along the Mississippi River and the western shore of Lake Superior to be, well, superior.
Wisconsin
Frames are every 1/2 hour. click on the thumbnail to view the full-sized animation.
I've got one word for this: BOOM!!! The floodgates opened wide over Wisconsin last night and birds poured up into the state from points south. All radars reported reflectivity values upwards of 30 dBZ with the LaCrosse radar even showing a few pulse volumes at 35 dBZ for some of the night! This was by far the heaviest migration so far this spring. Birds were heading on a general SSW->NNE trajectory with some evidence of concentration along the Lake Michigan shoreline. As of this posting birds are still migrating above Wisconsin, so keep an eye out for birds coming ashore off of Lake Michigan in the early morning hours!
Long story short: GO BIRDING!
Iowa & Illinois
Frames are every 1/2 hour. click on the thumbnail to view the full-sized animation.
And the BOOM! continues to the south, as heavy migration was evident across northern IA and IL last night. As previously stated above, birds were moving along a SSW->NNE trajectory last night so birds will be widespread across the forecast region today with some lakeshore concentration in the Chicago area as well. Given the magnitude of this event all spring hotspots should be holding new birds today. Go Birding!
As always, woodcreeper.com depends on you to report your sightings and be our 'eyes on the ground', so please come back and give us an idea of how we're doing predicting birding conditions in your neck of the woods.
Good Birding,
David
For migration updates in other regions check-
Michigan's Upper Peninsula -Â The Northwoods BIRDARÂ by Max Henschell
New England -Â Tom Auer's blog
Florida/SE - Badbirdz Reloaded by Angel and Mariel Abreu
PA/Ohio Valley - Nemesis Bird by Drew Weber
NW Ohio - Birding the Crane Creek by Kenn Kaufman
Pac NW - Birds Over Portland by Greg Haworth
Continental US - eBird BirdCast Forecast & Report by Team eBird