National Overview
The migration superhighway was open for business once again last night as the latest front pushed east across the Plains and Midwest. The heaviest migration was along the frontal boundary which swept across western Iowa and Minnesota by morning. Birders across the Midwest should be seeing new birds today.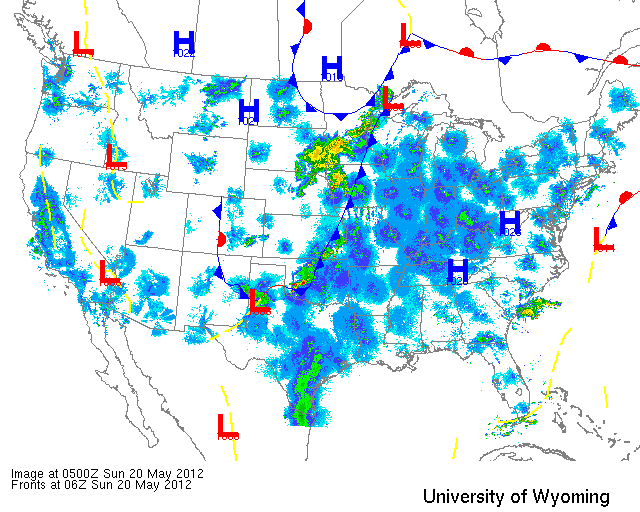 Below are the radar loops from sunset last night through 5:00am (central time) this morning
Since I will be publishing "as I go" each morning you may see some incomplete posts throughout the early morning hours. Don't worry- it's coming!
Mid Atlantic
Delaware & New Jersey
Frames are every 1/2 hour. Click on the thumbnail to view the full-sized animation.
The Mid Atlantic was a bit of a mixed-bag in terms of migration last night. Northeast winds appear to have kept most birds down while a few appeared to take the leap anyway. Anything moving was doing so from ESE->WNW, so expect any chance for concentrations to be inland along the Delaware River… but I'm not holding my breath.
Upper Midwest
Iowa & Illinois
Frames are every 1/2 hour. Click on the thumbnail to view the full-sized animation.
Hot and heavy migration up through Iowa and Illinois brought many new birds into and over the region. Birders in Iowa should be out today checking out the local haunts. Around Chicago migration was pushed a bit toward the lakeshore and therefore birders should be heading to the lake to find the best concentrations this morning.
Wisconsin
Frames are every 1/2 hour. Click on the thumbnail to view the full-sized animation.
Another heavy migration event into the state last night with the heaviest returns being birds entering from the south and less birds leaving from the north. Birders in the region should be hitting the regular spring hotspots this morning unless you're near Lake Michigan or western Lake Superior, in which case you should be heading for the lake shore. Migration over Milwaukee and Green Bay was along a distinct SW->NE axis and therefore birds should be in the lake shore migrant traps this morning. Over Duluth/Superior migration was overtaken by heavy storm activity early this morning and birds should have been put down along the lake shore at first light. I wouldn't be surprised to hear about some great spring birding in that area today.
As always, woodcreeper.com depends on YOU to report your sightings and be our 'eyes on the ground', so please come back and give us an idea of how we're doing predicting birding conditions in your neck of the woods.
For migration updates in other regions check-
Michigan's Upper Peninsula – The Northwoods BIRDAR by Max Henschell <- NEW!
New England – Tom Auer's blog
Florida/SE – Badbirdz Reloaded by Angel and Mariel Abreu
PA/Ohio Valley – Nemesis Bird by Drew Weber
NW Ohio – Birding the Crane Creek by Kenn Kaufman
Arizona – Words About Birds by Tim Schreckengost <- NEW!
New Mexico – Albuquerque Birding by Matt O'Donnell <- NEW!
Pac NW – Birds Over Portland by Greg Haworth
Continental US – eBird BirdCast Forecast & Report by Team eBird