National Overview
I've said it before and I'll say it again: migration happens all the time, especially in spring. It's worth taking a gander at the national composite from yesterday through this morning over at Paul Hurtado's radar archive here. Looking at that you can really see how migration gets concentrated along the southerly wind field on the east side of the front, but also that birds were pretty much migrating everywhere across the US last night with the lightest movements being in the northwesterly wind field to the west of the front and right along the East Coast. Cool stuff!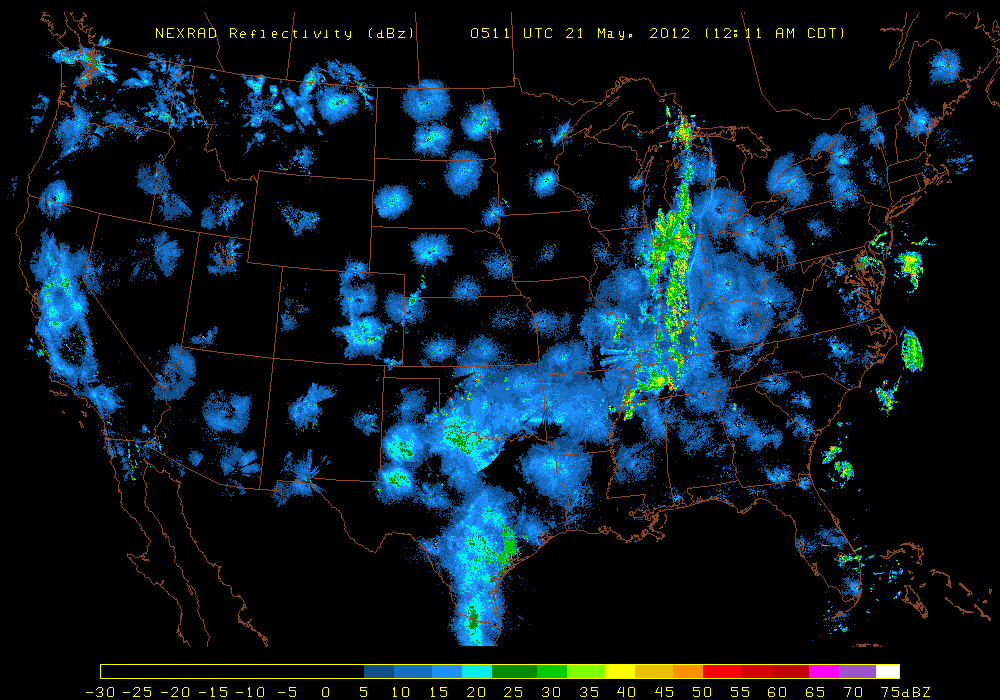 Below are the radar loops from sunset last night through 5:00am (central time) this morning
Since I will be publishing "as I go" each morning you may see some incomplete posts throughout the early morning hours. Don't worry- it's coming!
Mid Atlantic
Delaware & New Jersey
Frames are every 1/2 hour. Click on the thumbnail to view the full-sized animation.
Nothing apparent on the radar last night for the Mid Atlantic with strong east to northeasterly flow at all altitudes.
Upper Midwest
Iowa & Illinois
Frames are every 1/2 hour. Click on the thumbnail to view the full-sized animation.
With IA and IL now in the shadow of the last front, northwest winds appear to have kept most birds down last night. There may have been a little reverse migration, or more likely just some localized movements, but no widespread migration could be detected. With all the birds that came in over the last three nights there will be many good birds around the region this morning. Expect birds to begin shuffling into better habitat so go check out that IBA you've been meaning to visit for the best chance at high bird concentrations.
Wisconsin
Frames are every 1/2 hour. Click on the thumbnail to view the full-sized animation.
Same goes for Wisconsin where all radars indicated a lack of migrants. Most targets were moving N->S at the prevailing wind speed suggesting they were non-avian, but it's possible that a few birds were in the mix last night… possibly a Summer Tanager catching the next train back south, or some other birds just trying to make a go of it despite the unfavorable conditions. Either way, though, any avian signal was weak at best and so I don't expect much of  a change from yesterday except that maybe some birds have moved locally to take advantage of better foraging habitat. If you've got the time, I'm sure you'll find some birds today!
As always, woodcreeper.com depends on YOU to report your sightings and be our 'eyes on the ground', so please come back and give us an idea of how we're doing predicting birding conditions in your neck of the woods.
For migration updates in other regions check-
Michigan's Upper Peninsula – The Northwoods BIRDAR by Max Henschell <- NEW!
New England – Tom Auer's blog
Florida/SE – Badbirdz Reloaded by Angel and Mariel Abreu
PA/Ohio Valley – Nemesis Bird by Drew Weber
NW Ohio – Birding the Crane Creek by Kenn Kaufman
Arizona – Words About Birds by Tim Schreckengost <- NEW!
New Mexico – Albuquerque Birding by Matt O'Donnell <- NEW!
Pac NW – Birds Over Portland by Greg Haworth
Continental US – eBird BirdCast Forecast & Report by Team eBird