Migration was hot and heavy last night, just not over our area. Here's the midnight national composite showing the heavy flight over the Central and Mississippi flyways, as well as the Eastern up to Virginia.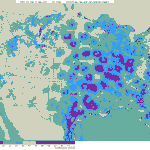 and here's the radar for our region from sunset last night through 5:00am this morning.
Frames are every 1/2 hour. Click on the thumbnail to view the full-sized animation.
A strong low-pressure system off the New England coast (you can see the western edge of it on the regional composite) is churning counter-clockwise and driving northwest winds down into the Northeastern US. This effectively shut down migration over the Northeast region last night, which you can see on both the regional composite as well as the Upton NY radar feed. Over NJ we did see a small and short-lived migration event on a SW->NE trajectory last night, so some stuff will have moved around today although I don't expect any major differences from yesterday's birding conditions. Take a look at the Fort Dix radar loop- and especially the velocity- where at just before 5:00am birds appear to leave Staten Island and head towards Sandy Hook. I'm not sure what this is (feel free to chime in) and while a reverse-migration of land birds would not be unheard of,  I suspect these are most likely shorebirds or gulls.
Otherwise things were pretty quiet over the region- but man, does the future look bright! Lots of birds appear to be heading this way from points south, especially along the east coast. The question will be whether a front can push far enough to the east to set up some southwesterly flow and keep the bulk of these birds along the east coast… and right now that scenario looks less-likely. Later this week the big oceanic storm will migrate south along the coast causing NNE winds offshore of the Mid-Atlantic. A front stretching from the Great Lakes to off of the Florida coast will set up light SE->NW winds over the region into the weekend, which will naturally favor inland migrant traps. As of this writing, the winds are forecast to be exceptionally light leading into the weekend, so there is some hope for some of the migration cloud to reach the coast… stay tuned!
In the meantime our Rutgers Scarlet Knight-Herons are pedaling our way around Cape Island, trying to scout every nook and cranny for the upcoming World Series of Birding. We're competing in the Cape Island Cup and Carbon Footprint Cup categories and hope to break the 150 species mark between midnight on Friday and midnight on Saturday. Right now we're coming up very short on our fundraising efforts, and haven't even raised enough to cover our entrance fees. I'm sure most of this has to do with our last-minute ability to get our team together, so I'm really hoping for a late-game rally from the community. If you can support us with a $$ per bird pledge, please email me with your pledge (25 cents, 50 cents, 1 dollar / bird, etc.). If you'd just like to make a flat donation, that's awesome too! You can send a check to my work, made out to Rutgers EcoGSA (please put WorldSeriesOfBirding in the memo so they know where it's coming from!) at the following address:
David A. La Puma
Postdoctoral Associate
New Jersey Audubon Society
600 Route 47 North
Cape May Court House, NJ 08210
And if you'd like to use paypal, any donations made to woodcreeper.com between now and Sunday, via the link on this page, will go directly to our WSB fundraising efforts.
Thank you again (and again, and again) for your support- and Good Birding!
David