National overview
Light trans-Gulf migration along the Texas coast was followed by heavy nocturnal migration up the central U.S. last night as the latest low pressure system swept across the Upper Midwest. Light to moderate migration was present from the Central Great Lakes down through eastern Louisiana last night, but will be higher tonight as migration conditions continue to improve to the east today. Light migration was also evident throughout the Desert Southwest and coastal California through the Pacific Northwest.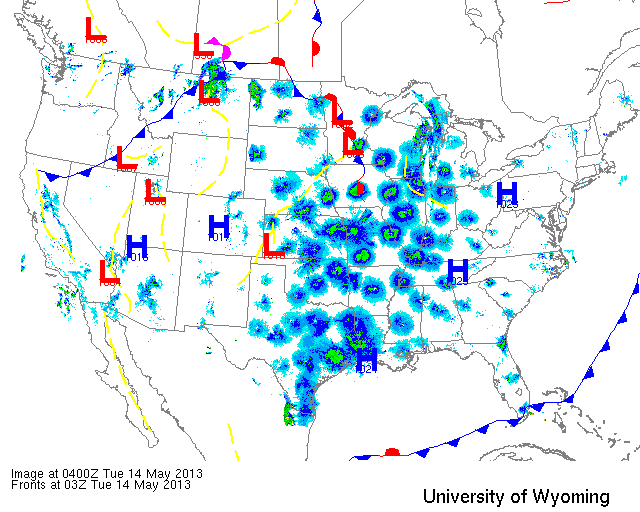 Below are the radar loops from sunset last night through 5:00am (central time) this morning
Ohio/Ontario
Frames are every 1/2 hour. click on the thumbnail to view the full-sized animation.
Birders in the western Lake Erie basin should be seeing new birds today as both the Detroit and Cleveland radars indicated light to moderate migration last night. Because Point Pelee has little direct coverage by either of the radars, we need to do some inferring from the surrounding stations in order to hypothesize about birding conditions. Looking at the Detroit radar first, birds do lift off after sunset heading from SW->NE toward Sarnia and continue on that trajectory through the early morning hours. Looking at the Cleveland radar we see the same pattern of migration from SW->NE across Lake Erie. If we presume that migration was consistent between the two radars (where we don't actually have good coverage, birds will have been moving over Point Pelee throughout the night last night.
Weather reports suggest that no precipitation was present throughout the morning hours so fallout conditions are not expected, but new birds should be throughout the region this morning. The Pittsburgh radar tells us little about the Point Pelee area since birds were moving SW->NE towards the eastern Lake Erie basin. As winds turn more southerly today expect tonight to set up for another bigger night of migration with a more direct 'hit' across the western Erie basin.
As always, woodcreeper.com depends on you to report your sightings and be our 'eyes on the ground', so please come back and give us an idea of how we're doing predicting birding conditions in your neck of the woods.
Good Birding,
David
For migration updates in other regions check-
Michigan's Upper Peninsula -Â The Northwoods BIRDARÂ by Max Henschell
New England -Â Tom Auer's blog
Florida/SE - Badbirdz Reloaded by Angel and Mariel Abreu
PA/Ohio Valley - Nemesis Bird by Drew Weber
NW Ohio - Birding the Crane Creek by Kenn Kaufman
Pac NW - Birds Over Portland by Greg Haworth
Continental US - eBird BirdCast Forecast & Report by Team eBird