National overview
Trans-Gulf migrants arrived along the Louisiana and East Texas coasts yesterday afternoon, followed my heavy migration up through the Central and Southeastern U.S. High pressure over the Northeast suppressed any major nocturnal flight last night. Migrants continued to march north across the western U.S. although densities were considerably lower than in the east. Fallout potential exists for southern Minnesota and southwestern Wisconsin this morning as low pressure brought some heavy precipitation to the region early today.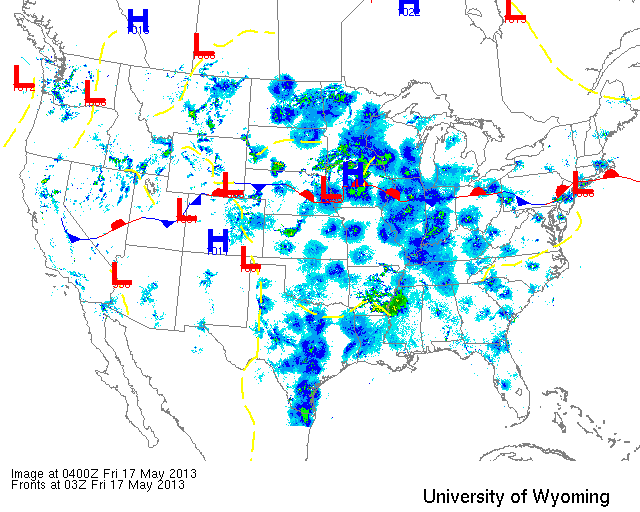 Below are the radar loops from sunset last night through 5:00am (central time) this morning
Upper Midwest
Minnesota
Frames are every 1/2 hour. click on the thumbnail to view the full-sized animation.
Southeasterly winds over much of the forecast area triggered heavy migration into and out of Minnesota last night. Migration was heaviest in the eastern half of the state with all three Upper Mississippi radars indicating high bird densities throughout the night and early morning. Birds moving up through southern Minnesota were intercepted by heavy precipitation early this morning which will result in fallout conditions along the frontal boundary. If you experience heavy precipitation between Midnight and daybreak, be sure to check your local patch this morning. Migration was on a SE->NW trajectory last night so spring hotposts along the Mississippi River will be good choices today. Expect diversity of long-distance migrants to increase in the north today as temperatures have warmed and the backlog of new birds has finally pushed into the northern reaches.
Wisconsin
Frames are every 1/2 hour. click on the thumbnail to view the full-sized animation.
Wisconsin experienced another big night of migration, this time with an inland emphasis. All three radars indicated strong SE->NW flow across the state last night, and precipitation moving into the western part of the state will cause some fallout conditions today from La Crosse north to Eau Claire. If you're in the western third of the state and experienced precipitation between midnight and daybreak, hit your local patch this morning. Otherwise birds will be dispersed across the landscape this morning with heaviest concentrations at inland hospots.
Iowa & Illinois
Frames are every 1/2 hour. click on the thumbnail to view the full-sized animation.
The same goes for IA and IL last night, with heavy migration on a SE->NW trajectory. No fallout is expected for these regions since precipitation was absent last night and this morning. Head inland for birds!
As always, woodcreeper.com depends on you to report your sightings and be our 'eyes on the ground', so please come back and give us an idea of how we're doing predicting birding conditions in your neck of the woods.
Good Birding,
David
For migration updates in other regions check-
Michigan's Upper Peninsula -Â The Northwoods BIRDARÂ by Max Henschell
New England -Â Tom Auer's blog
Florida/SE - Badbirdz Reloaded by Angel and Mariel Abreu
PA/Ohio Valley - Nemesis Bird by Drew Weber
NW Ohio - Birding the Crane Creek by Kenn Kaufman
Pac NW - Birds Over Portland by Greg Haworth
Continental US - eBird BirdCast Forecast & Report by Team eBird