National overview
Migration was hot last night from sea to shining sea, the only exception being right under the strong low pressure system across the Missouri/Kentucky area. Check out Paul Hurtado's radar loop, from 3pm yesterday to present: Trans-gulf migrants could be seen coming in hot and heavy yesterday afternoon, and after sunset all hell breaks loose from the Caribbean to New England, and west to the Pacific Ocean. Good stuff! Spring has SPRUNG!!!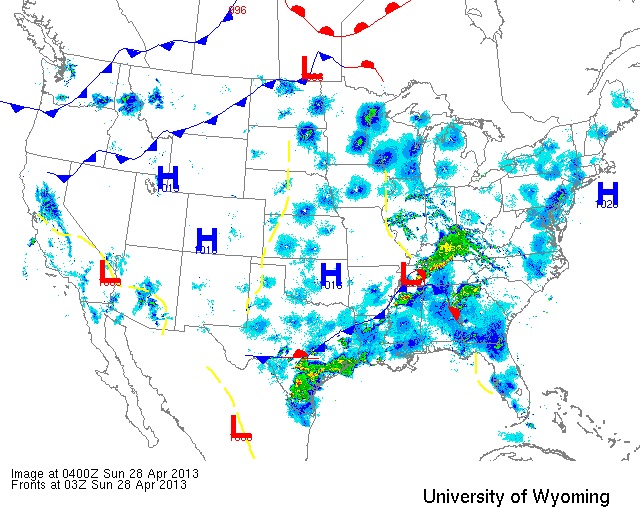 Below are the radar loops from sunset last night through 5:00am (central time) this morning
Upper Midwest
Minnesota
Frames are every 1/2 hour. click on the thumbnail to view the full-sized animation.
The North Woods saw another big pulse of birds reach them last night with both Minnesota radar showing very heavy migration last night (> 25 dBZ). The velocity images indicate that birds were moving NNW across the region and should be well dispersed across the landscape this morning. Hit the tried-and-true spring migrant traps for the best chance at high densities and diversity. I'm still expecting diversity to be dominated by early spring and short-distance migrants, but there will definitely be a few FOS birds mixed in on this flight. Go birding!
Wisconsin
Frames are every 1/2 hour. click on the thumbnail to view the full-sized animation.
As of early last night it was unclear whether many birds would make it into southern Wisconsin because of the front to our south holding birds up. Judging by the radar I'd say that's not the case today. While we could have had many more birds this morning, it looks like we picked up a good number of new ones today anyway. Northern Wisconsin definitely did pick up a whole mess of new birds. According to the La Crosse, Green Bay and Milwaukee radars migration was hot and heavy over the state last night with most birds heading NW throughout the region. Birds appeared to be heading up the Mississippi River floodplain suggesting that hotspots along the river should be good this morning. Check out the Green Bay radar to see a large influx of birds crossing Lake Michigan into northeastern Wisconsin!
Iowa & Illinois
Frames are every 1/2 hour. click on the thumbnail to view the full-sized animation.
You can see the frontal boundary at the bottom of the animations for IA and IL, which gives you an idea of how birds were blocked to the south. Migration over the radars, though, was moderate to heavy suggesting that birds did get up and out of the region last night (and into Wisconsin). Unfortunately for northern Iowa and Illinois, that means a net loss of birds from the area today. With the primary trajectory last night being southeast to northwest, expect little concentration along the Chicago lakeshore, but more along the Mississippi River floodplain this morning.
As always, woodcreeper.com depends on you to report your sightings and be our 'eyes on the ground', so please come back and give us an idea of how we're doing predicting birding conditions in your neck of the woods.
Good Birding,
David
For migration updates in other regions check-
Michigan's Upper Peninsula -Â The Northwoods BIRDARÂ by Max Henschell
New England -Â Tom Auer's blog
Florida/SE - Badbirdz Reloaded by Angel and Mariel Abreu
PA/Ohio Valley - Nemesis Bird by Drew Weber
NW Ohio - Birding the Crane Creek by Kenn Kaufman
Pac NW - Birds Over Portland by Greg Haworth
Continental US - eBird BirdCast Forecast & Report by Team eBird