National overview
Migration was hot and heavy along the Central and Mississippi Flyways last night, while high pressure over the Mid Atlantic and Northeast kept birds down for that part of the world. A stalled front stretching from the Great Plains to the Upper Midwest marked the boundary (and fallout line) for the Central US, and migration continued across the Gulf Coast, Desert Southwest and up the Pacific Coast as well.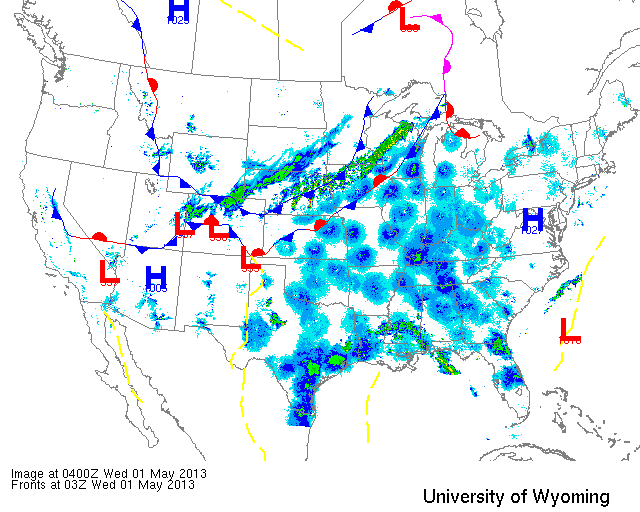 Below are the radar loops from sunset last night through 5:00am (central time) this morning
Upper Midwest
Minnesota
Frames are every 1/2 hour. click on the thumbnail to view the full-sized animation.
A stationary front draped across the Upper Midwest kept any significant nocturnal migration from occurring over the Twin Cities and Duluth last night. Lots of birds are already on the ground in this region and today you should have no problem locating whatever you missed yesterday. As new habitat opens up due to warming daytime temps, expect some localized movement into these areas.
Wisconsin
Frames are every 1/2 hour. click on the thumbnail to view the full-sized animation.
For Wisconsin, this is a tale of two migrations. Draw a line in your mind stretching from just north of La Crosse to just east of Iron Mountain. That is the stationary front which delineated the migration event last night. If you were west of that line, birds did not migrate in any detectable numbers last night; if you were east of the line you experienced another big flight last night. If you were in the path of that front last night (i.e. you got rain between midnight and this morning) you were in a potential fallout zone. Looking at the radar, it appears as if birds were falling out just north of La Crosse last night, as well as over Green Bay and the Door Peninsula. Birders in those areas (and along the frontal boundary as described above) should definitely beat the bushes this morning to see what's around. The Milwaukee radar indicated moderate to heavy migration with southwest winds eventually pushing birds towards the lake. The Chicago radar (see below for more) also supports this notion of more birds over Milwaukee today.
Iowa & Illinois
Frames are every 1/2 hour. click on the thumbnail to view the full-sized animation.
IA and IL were both well south of the frontal boundary and as such experienced moderate to heavy migration last night. Birds were moving from SSW->NNE across the region and concentrations are expected along the Chicago Lakeshore this morning, as well as more interior locations such as Palos Woods.
We're finally in May! Although for some I'm sure it still feels like April in terms of vegetation phenology. Either way, warblers are here and this latest wave will have brought more density and diversity to the Upper Midwest.
As always, woodcreeper.com depends on you to report your sightings and be our 'eyes on the ground', so please come back and give us an idea of how we're doing predicting birding conditions in your neck of the woods.
Good Birding,
David
For migration updates in other regions check-
Michigan's Upper Peninsula -Â The Northwoods BIRDARÂ by Max Henschell
New England -Â Tom Auer's blog
Florida/SE - Badbirdz Reloaded by Angel and Mariel Abreu
PA/Ohio Valley - Nemesis Bird by Drew Weber
NW Ohio - Birding the Crane Creek by Kenn Kaufman
Pac NW - Birds Over Portland by Greg Haworth
Continental US - eBird BirdCast Forecast & Report by Team eBird